Welcome to Berne Abbey!
Progress
The abbey was started on March 3rd, in the year of our Lord, 1746 AD, under the supervision of Archbishop John Glorybane, and Duke Christopher Charles Wilhelm Ironshot of Jura. It is the place of coronation for Swiss Monarchs, Inaugurations for the Ministery, and Lord Chancellor, and Viceroys of Württemberg. As of July 25, 1746, the abbey is completed.
Staff
Archbishop - In election ( Sir John Glorybane died in a terrorist attack on a Embassy Caravan train )
Assistant to the Archbishop - 
Head of Security - Christopher Ironshot
Security task force - Honour Guard Regiment of the Rhine, Royal Swiss Commandos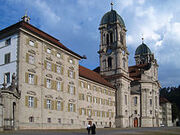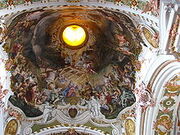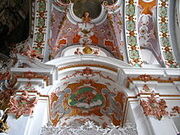 Timeline of construction
March 3rd - Plans made official, ground is broken.
March 4th - Temporary abbey outside of Bern is set up, Foundation is laid, and cannons for national holidays brought to the site.
March 5th - Materials delivered to site, and the taverens within 4 square blocks of the abbey are closed, and lastly, Honour Guard Regiment of the Rhine arrived at the site.
March 6th - A permanant regiment is brought to the site, under the Archbishop, and a rearguard is left by the rhine guards.
March 7th - One Javiana class cannon is brought to the site
March 8th - The Ministry visits the site.
March 9th - Ahead of schedule projected finish date December 1746, The Archbishop is offered a estate nearby the construction site
May 1746 - New Archbishop appointed by Prime Minister Blau
July 25, 1746 - The abbey is completed, not as grand as hoped, but grand enough.