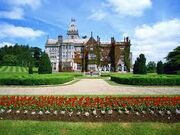 Huntington Manor
Huntington Manor is one of 3 homes belonging to Prime Minister, and General of the British Army, Nathaniel Huntington. Huntington Manor is located in the captial city of Berne, Switzerland. It is filled with many corridors, rooms, and living spaces for Nathaniel's friends and family.
Living Spaces
There are a total of 10 living quarters, each consisting of their on state of the art bathrooms. Each room is uniquely decorated with linen, pillows, paintings, and wallpaper for each room. Each room is fit with all of the ammenities for his guests.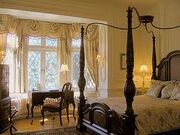 Dining Hall
The dinning hall is one of the most elaborate spaces of the home. It is filled with art and a long table to occomidate all of his guests at one table. The dinning hall is also used for special occasions and parties alike!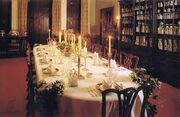 The Outdoor Area
The manor also has a lush, 10 acre garden area that is taken care of by his trusted house keeping staff. The garden also has a small maze and a pond filled with coy fish. Just to the left of the garden is a lovely swimming pool for those hot summer months.